We are officially starting this new segment where you're gonna see ours [Geraldine's & Emma's] favorite magazine's covers from the month ahead. As long as the new month's covers start popping out, where gonna add them to the post, so keep refreshing it to see them completely.
Personally I love magazines so much you have no idea!  Every month is like a ritual for me: as soon as I know the new magazines are in  store I gotta go as soon as possible to buy them! It's an obsession, healthy or not,  I adore the covers, opening the magazines and seeing the editorials, reading the editor's letter, going through all the pages and falling in love with the art, fashion and writing… So I do buy as many as I can :S shame on me!
As you know, we live in Mexico so some times it is hard to get all the international magazines we love, but mexican issues are a MUST HAVE in my own mags library hahaha. Here my favorites:
I had to start with this one BECAUSE I'm Obsessed with the magazine!!! Issue #3 has 4 covers, this with smoking hooot Jon Kortajarena but let me tell you that the other 3 are amazing aswell: Simon Nessman, a beautiful model with a sassy hat & dress and another model with a MMMargiela crystal face mask. Here are these 3 other.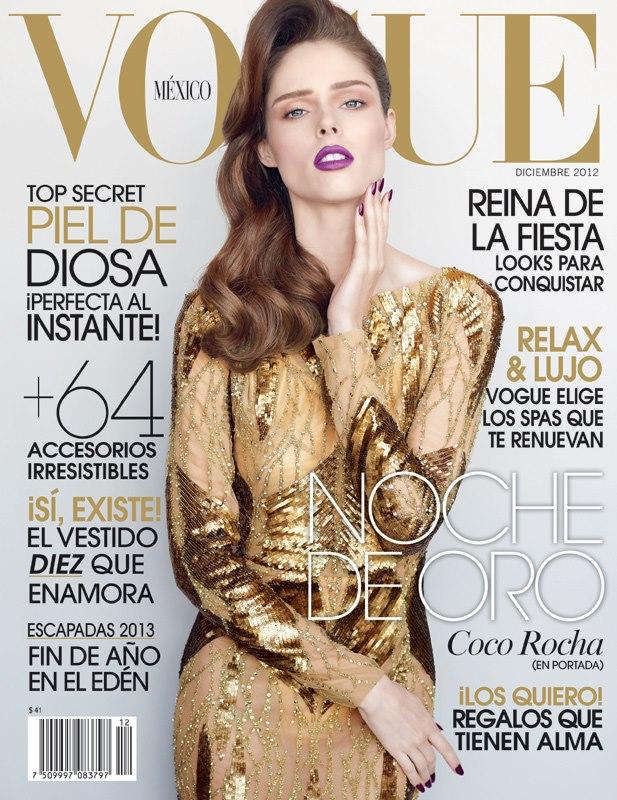 This is one of my Mexican must haves: Vogue México with Coco Rocha looking stunning in a golden Elie Saab.
Second must have: Harper's Bazaar with hoot Salma Hayek in the cover.
Nicola Formichetti as guess editor of Dazed & Confused, there are 4 covers but I couldn't decide between these 2, love them!
Kate Moss by Mario Testino in Vogue Spain.
Thomas Sottong in the Fall/Winter 2012 L'officiel Hommes Germany.
Vogue Korea.
Marion Cotillard in Dior for  W magazine.
Natalia Vodianova for Vogue Uk.
Loving the multiple covers from Teen Vogue, obviously this is my favorite with Zayn Malik in it :)
Yeah why not?! The Directioners got another cover, this time obviously is the "Obsessed" issue of Wonderland Nov-Dec.
Coco Rocha in Canadian magazine Fashion. Lovely isn't it?
Taylor Swift in Harper's Bazaar Us.
Cara Delevingne and Grace Coddington for i-D.
Dsection issue #5 with gorgeous Sean O'Pry and Estee Rammant.
As you may know, Fucking Young! is one of my favorite fashion blogs and they are launching their first magazine!! Couldn't be more excited about "The blond issue" featuring Sebastian Suavé in the cover. Get the magazine here!
Harper's Bazaar Spain with a beautiful black & white cover. Pure art.
Love Emma
Oh magazines! they always seem to have this sort of spell on me making me wanting them all, they're sooo dreamy its like you are traveling to this little magical world where everything happens to be perfect. I could seriously spend one ENTIRE day with nothing more than magazines, tons of them. I used to have a problem or as my mom once said: "you're a magazine-junkie this has to stop". (I was buying more than 5 mags each month, and refused to get rid of old ones imagine the overload invasion of magazines in my room) So I checked into Rehab as Amy would sing and I manage to recover ;) Today I just buy the least possible, maybe two hehehe :P and mayybee just one it depends on how much I "love" the content, or if the cover really stands out, or  that really interesting article about something I didn't knew, or something I really liked, once I just bought a magazine because of an article on Acne's HQ's. (Acne is among my favorite labels)
p.s. my room is still invaded with magazines sorry mom hahahah ;)
anyway, here are my picks:
Gorgeous Doutzen Kroes in Vogue NL she is amazing.
Lara Stone for i-D I love the fact that i-D has multiple covers, and this one is cool, buuut Grace Coddington's is the coolest of  them all. I just realized they made Lara's hair a little bit a la Grace's C.  Don't you think?
 It would be cool trying to ride a horse in a classy, elegant dress, though I'm not too keen of this one.
Marion Cotillard looks so glamorous in here.
Bon Magazine is one of my favourites.
 The dress is just stunning in this Vogue's Germany.
Hairy-hairy Vogue Japan
Styleby's latest issue, I'm suucchh a BIG fan of this one.
                                                                                                                        xx Geraldine